In October Scarecrow Video started carrying more magazines, books and zines related to film and video. Carrying zines specifically was inspired by an outside source, cartoonist Kelly Froh who co-operates Short Run comics fest in Seattle. She knew of some current movie review zines and imagined that there must be enough that we could curate a small section in the store devoted to this niche.. Kelly says, "I personally think that the best zines are ones that give the reader a surprising and hilarious amount of details about any certain thing - a movie, a genre, food, music, art, pinball, a certain obscure band, etc...!"

So we came together and got in contact with creators like Tim Goodyear who creates Video Tonfa, the great writers at I Love Bad Movies and Dan Kinem who traded me some zines when the VHSHITFEST came through documenting the store for the upcoming VHS documentary "Adjust Your Tracking". In hind sight, I should have written this article sooner. The zines are selling better than we could have imagined. Which goes to show that Scarecrow's customers love all things independent and obscure.

The best selling was the series "I Love Bad Movies" (www.ilovebadmovies.com). All 5 issues have sold well, many are sold out. Having read the latest issue I can attest to the quality of the writing. Each of the writers are passionate about the films they review. That passion translates to honest enjoyment versus enjoying the film from an ironic stand point. The production of these books are great. The two color illustrated covers really stand out and the interior design is sound. It's aesthetic is more on the clean professional side than your average xeroxed punk zine.

Kelly adds, "After reading Matt Carman & Kseniya Yarosh's I Love Bad Movies zines, I had the thought that putting them in front of movie lovers as well as zine readers would give them more visibility, and I knew that the customers that frequent Scarecrow might really enjoy picking up a zine with their movie. I Love Bad Movies is an exceptionally well-written and entertaining zine. They are the perfect thing to read on a plane, or give as a gift to someone who loves 'Troll 2', or 'Battleship Earth'."

Tape Mold #1 (www.vhshitfest.com) by Dan Kinem is another zine that is earnest and truthful about very low quality films and videos. He does not recommend every movie that he reviews and will tell you right away that you shouldn't watch some of them unless you're like him and little obsessive. Tape Mold focuses on the very obscure. From interviews with directors of HauntedWeen and Hellroller to a lengthy article about Dan's search for all the titles that World Premiere Home Video ever released. Even though we carry all of those movies and I like obscurro stuff, I've never seen them or thought twice about them when they did pass by. I found it all to be pretty fascinating to read. The quality is above average for fan-zines with it's full color heavy weight stock cover. The layout is decent and clean but some pictures are a little too pixely. It's a fine zine, but I would only recommend it to those who are true tape heads.

Video Tonfa by the Illage Vidiot (AKA Tim Goodyear) are super fun. The Goodyear's zines are perfect fan-zines. They are punk as fuck. Each two page spread is hand draw and written recreations of the front and back cover of the VHS or DVD being reviewed. The back cover's original blurb is replaced by Tim's excited hand writing explaining his very personal feelings about the movie and sometimes experiences surrounding his viewing the video. I would recommend Video Tonfa to people who don't have cable, don't do much with the computer and watch movies for the enjoyment of the escape while escaping via their personal drug of choice. Very much a zine that goes down well with a can of beer.
I hand-bound each of the Video Tonfa's into one little reference book for Scarecrow's own library. So it's easy to browse and figure out which issue you want to purchase.

Too Many Goddamn Draculas (bobbymono.blogspot.com) is not exactly a movie fan-zine but is a comic collection about one of the biggest film icons ever... Dracula. We all know him and there's no denying that without the films the horror genre wouldn't be the same. This comic anthology features great laughs by Bobby Mono himself, Jack Teagle, James the Stanton, Max Clotfelter, Kelly Froh, myself and many others. It's a well made book printed on glossy paper in glorious black and white.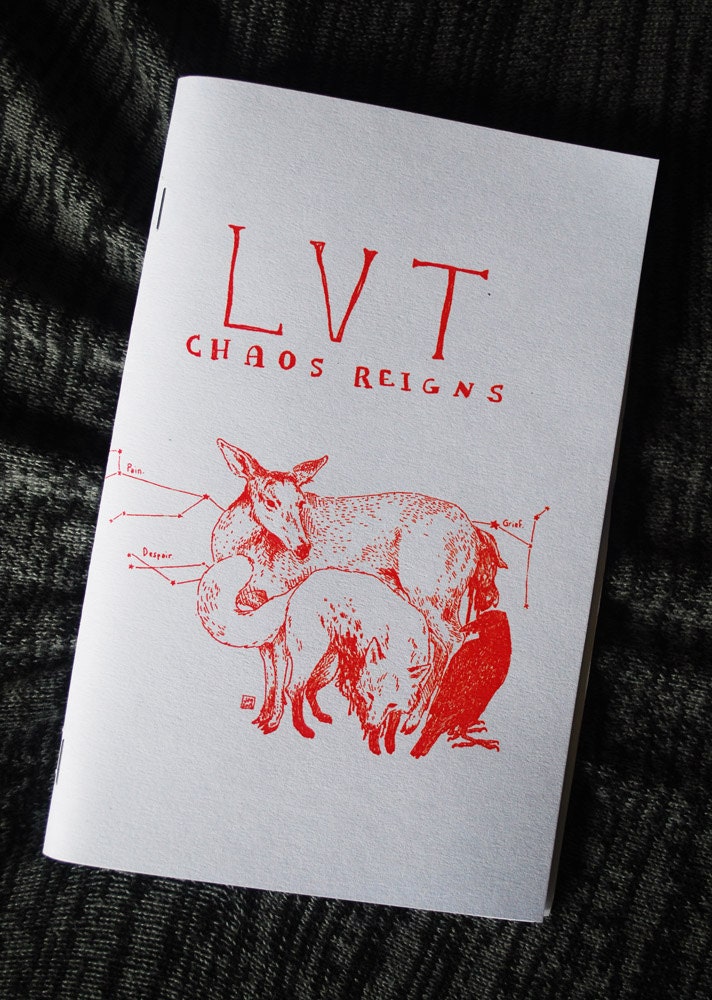 photo taken from Julia Gfrorer's Etsy shop - //www.etsy.com/people/thorazos?ref=pr_profile

L.V.T. Chaos Reigns is a very artfully done art comic zine. Less of a review based booklet and more of a tribute to the brilliant director Lars Von Trier. This is a fan-zine for sure though. It's for the hardcore Von Trier fans out there. Sean Christensen and Suzette Smith assembled this great anthology of comics and illustrations that are "impressions of his work". There's a range in artistic styles but they all seem to come from the same emotionally devastated hand drawn place. The printing quality is very nice, a grey cover with red printing encasing white pages and black ink with bluish grey look to it.


And lastly I'll mention my own Godzilla King of the Monsters zine. I wrote and illustrated this booklet with the idea that Godzilla is the last remaining dinosaur that has been changed by nuclear waste and bothered by humans until he can't take it anymore. He lashes out, but the humans see him as more of a threat than a magnificent beast that deserves it own space. So they do whatever they can to destroy the seemingly last dinosaur. I'm passionate about it and I drew Godzilla to be as cute and sympathetic as I could. It maybe the first of a series where I approach each of the 28 Godzilla movies from this direction.

Now that nearly everything in entertainment is being digitized and finding it is easier than ever. It's only fitting that Scarecrow would help independent handmade products reach a larger audience, since printed material is also struggling to remain relevant and valuable. Viva la Physical Media!!
all photos Marc Palm unless otherwise noted.